Ledbury has a fascinating history and there are excellent websites and books recording life in this small market town. Often restricted by time and space a broad sweep of the subject is sometimes adopted but there is still much to be discovered. The nineteenth century seems to be relatively unexplored, which is a pity as it was a time of great change. This web site looks in detail at some little known facts.
Click the image in any section for the full story.
Scroll down for more.
Bye Street.
North side.
Bye Street today is uninteresting when compared with the warren of tenements, shops and businesses of the C19 and early C20 and I have explored its history here. An early description by George Wargent (1824 ─ 1909)
seen here.
should be read first.
The Southend.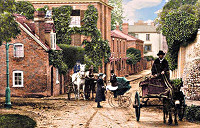 The Southend street in the nineteenth and early twentieth century provided almost any service you could wish for - boots fixed, hair done, grocery, meat, greengrocery, drapery and legal affairs sorted out. Today few of these facilities remain. Look at the history of the street by clicking on the picture and take a walk down from the Upper Cross.
More Ledbury History can be found on
Old Ledbury
site
I am indebted to all members of the Old Ledbury Facebook Group for their collective memories without which the research for this site would have been even more difficult.
Comments and help with research always appreciated.
john@ledburyhistory.uk
© 2023