Ledbury has a fascinating history and there are excellent websites and books recording life in this small market town. Often restricted by time and space a broad sweep of the subject is sometimes adopted but there is still much to be discovered. The nineteenth century seems to be relatively unexplored, which is a pity as it was a time of great change. This web site looks in detail at some little known facts.
Click the image in any section for the full story.
Scroll down for more.
The Southend.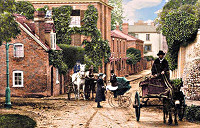 The Southend street in the nineteenth and early twentieth century provided almost any service you could wish for - boots fixed, hair done, grocery, meat, greengrocery, drapery and legal affairs sorted out. Today few of these facilities remain. Look at the history of the street by clicking on the picture and take a walk down from the Upper Cross.
The Canal.
The arrival of the Gloucester to Hereford canal and later the railway is a good example of how an integral part of a town's history can be almost overlooked yet it altered the face and the fortunes of Ledbury.
Little is published of the canal's construction and its route through the town and today the only clues left that it ever existed is the 'The Old Wharf' industrial site south west of the town and a couple of street names.